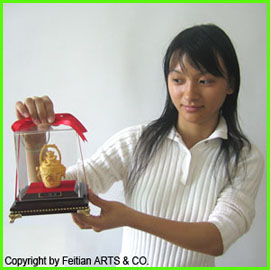 Eat, drink, and be merry. Then do it again. The year of the Pig begins on the new moon of February 17th, 2007. (This exact new Moon occurs at 8:38 PM Pacific Time.) Pig year is a time of fun and self indulgence. Ease and enjoyment of life are valued more than power and status. We can be kinder to each other in our everyday interactions and feel little need for competition. Harmony, peace, understanding, and good fellowship are valued. Money is spent on luxuries such as extravagant vacations, sumptuous meals, and fine clothing. It is easy to become content and satisfied, ignoring the bills that accumulate during Pig year. The following Rat year 2008 will be time to face reality after Pig year indulgences, so enjoy now while the enjoying is good.
People born in Pig year are kind, honest, peaceful in nature and dislike arguments or conflicts. They are optimistic, fun-loving, and don't hide their emotions. Pig people are creative and have exquisite taste in the arts. Contrary to popular misconceptions, Pig is not a slob. Pigs pay much attention to hygiene and appearances. Pigs make great friends because of their because of their capacity for giving and forgiving.
One challenging trait for Pig people is the tendency to be overly sensual and indulgent, especially with food and drink. Being artistic, Pigs can overspend on luxuries and be impractical about reality.
All following pig gifts are
made by electroforming the pure gold on the surface, gloss and bright, elegant and worth for collection. The artwork is realistic, and has high value in appreciation and collection. Each Item packed in one beautiful Gift Box.
(Also you can click here to register and view our wholesale price online directly.)